"Although dementia is progressive in its nature, its path varies greatly"
Article by Nayland Care Company Director, Chelsey Cookson
Dementia care is a topic that has gripped my attention from an early age.
My wonderful Nana was diagnosed with mixed dementia when I was just 19 years of age. Having worked in home care for around 18 months before I learned of Nana's diagnosis, I had a reasonable (but limited) understanding of what her future would look like. I was naturally worried about how my Grandad would cope with the task of becoming her main carer.
Nana and Grandad managed as well as they could at home before he made the difficult decision to find residential care for Nana when she reached the more advanced stages of her condition. We were lucky, as Nana was offered a place in a lovely residential care home and I maintain to this day that her outcomes were as good as they could have been, but I attribute this mainly down to a strong circle of family support which included dad and I having knowledge of the health and social care system (Dad was a registered mental health nurse at the time). Sadly, I am acutely aware that not all people living with dementia (and their families) can say that their journey hasn't been fraught with profound challenges.
A personal journey into dementia care
After watching my grandparents grapple with managing their situation, I realised that dementia was going to become a significant global issue that many of us will have to come to terms with. Their journey also completely changed my perception of dementia and consequently my care practices.
As I write this blog, there are currently 850,000 people living in the UK with a diagnosis of dementia. This is projected to rise to 1.6 million by 2040 (Source: Alzheimer's Society). There are currently over 200 types (subgroups) of dementia. I think it's safe to say that we're heading towards a global health emergency. With no cure on the horizon, it's imperative that we get better at understanding this complex condition and explore non-pharmaceutical ways of supporting people to live well.
Developing dementia home care training
As the company in-house trainer for Nayland Care at the time, I placed a heavy focus on learning as much as I could about dementia so that I could cascade this down to our care teams.
I began to read many books by dementia experts about how the condition affects people and their behaviour and I attended more courses than I could care to count. I took this information and used it to write short training programmes for our care staff to equip them with much-needed knowledge and confidence in supporting people to live well with dementia.
The training seemed to be well received by our staff and we would be asked to develop more on certain issues such as 'how to manage difficult behaviours' and 'how to optimise the person's home environment'.
Managing Director, Yvette (Mum to me), decided we needed to take this further and found a programme developed by the Alzheimer's Society where a trainer could become an Associate Trainer. This involved one of their experts observing and assessing my delivery of dementia training programmes and approving me as one of their Associate Trainers. I was delighted to have been successful after a very nerve-wracking assessment and was proud to learn that I was one of only 25 nationwide trainers to attain the silver level to deliver dementia training by the Alzheimer's Society.
My learning of dementia remains a continuous mission. I decided to undertake a huge upskill in 2015 by enrolling on an Advanced University Diploma in Dementia Studies with the University of Derby. This qualification is the equivalent of a bachelor's degree. I learnt a wealth of new information on this course including the social-economic impact of dementia as well as specialising in distressed behaviour, which I know is a key issue for many people. I also learned that dementia is far more complex than just problems with memory. There is much more to it than that. There are many physiological changes that take place that impact on how well the person can function on a day-to-day basis, but due to cognitive damage to the brain, it isn't easy for a person to tell us.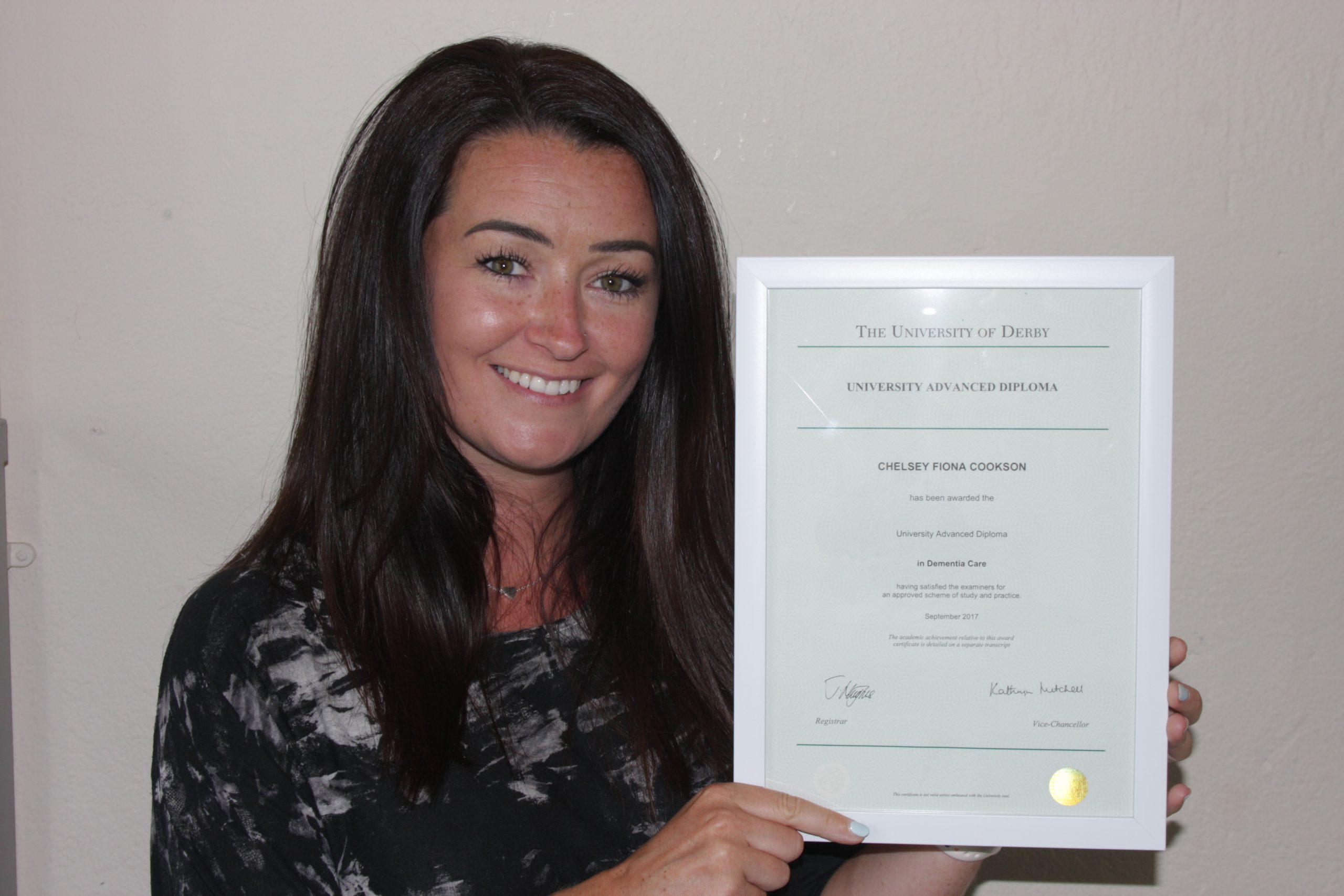 The single most important thing I have learnt over the years is that although dementia is progressive in its nature, its path varies greatly depending on a few important factors:
1) Early diagnosis. The earlier a person who is showing symptoms talks to their GP the better! Many people wait because they are frightened and it snowballs into a crisis. This can be avoided with early interventions often beneficial in managing symptoms and optimising a person's functional ability. Our carers are trained to spot the early signs of cognitive decline and we know how to support you to get the help you need.
2) How much family/friend support the person has. Sadly, lots of people experience isolation when they have dementia simply because people don't know how to react or what to say. We can offer training to informal carers to help overcome this and maintain social and emotional links with people. We never use professional jargon and we pitch it at a level you can relate to.
3) High quality care and support. If you decide to invite professional carers into your home to help you take care of your loved one, please make sure you research your local care providers to ensure that the team have the necessary skills and training to offer the best support possible. Check their CQC report and ask them questions directly related to how they effectively support people with dementia. Our staff attend regular and comprehensive training related to dementia including experiential workshops which gives our carers a practical insight into what it might be like to live with the symptoms of dementia. This unique perspective helps them to understand how their approach to care can impact on how a person reacts (which is massively!).
The above is not an exhaustive list either. There are many things that can impact on a person's outcomes, these are just some examples. Whilst we don't have a cure for dementia, it doesn't mean we're helpless. There is much that can be done to support people well. It will always be my passion to learn more about this widely misunderstood condition and think of new ways to best support people to live well in the comfort of their own home for as long as possible.
If you or a loved one is living with dementia and would like the support of a care agency to live well at home, don't be afraid to reach out to us. Simply call us on 01473 550481 or email admin@naylandcare.com